INN AO - Exquisite WP theme
If 13.8 billion years ago, there was nothing here, then 13.8 billion years later, in the collision of particles, a groundbreaking theme - INN AO appears.
Theme Information
Theme Name: INN AO
Theme Version: 10.0.0-stable
Update Date: To be determined
Key Features: Image, video, music display, information browsing, member interaction
Compatibility: PHP 8.2, WordPress 6.2+, Chrome, Ubuntu
Online Preview:

Eastern Palace

Demo Account:

robot@inn-studio.com

Demo Password:

inn-studio.com

Theme Price: ¥499
Purchase Theme:

Contact Author QQ

Community Group:

Join the Group
Theme Preview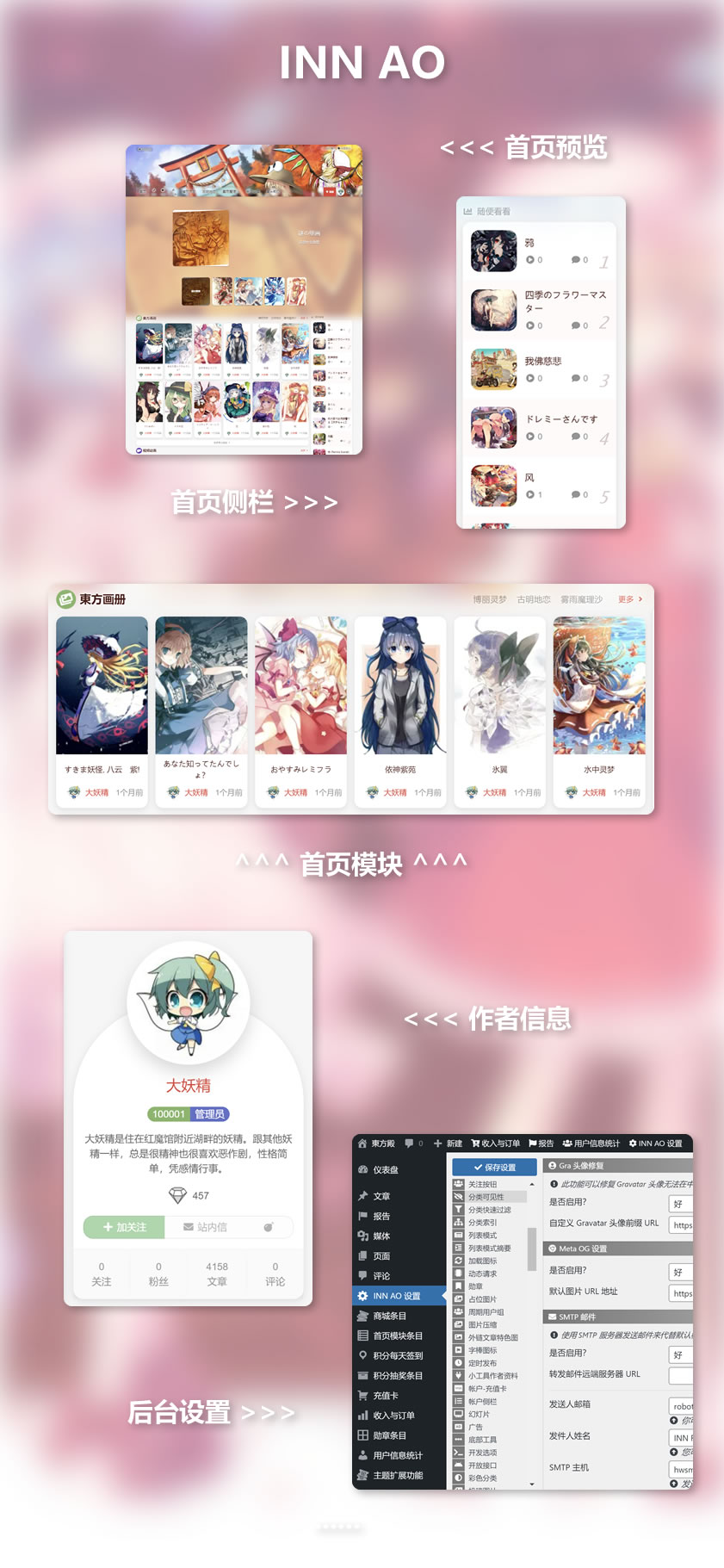 Theme Description
Under the bustling city night sky, I don't want to face the streets lit up with red lights, nor do I want to hear the noisy voices of shops. I just want to quietly purchase a theme I like and, at this moment, install and explore it silently. This once-distant tranquility is now in the palm of my hand. My breathing rate and heartbeat rhythm are like snow on a peaceful night, dancing joyfully because I have this theme.
INN AO, this is a theme that is not easy to use, but it is also a theme that is not difficult to use. The ease or difficulty of using the theme depends on the user's level. Even if I don't understand HTML, I can create fairy tales like poetry. Even if I have some knowledge of code, I may not be able to weave a garment.
If INN AO is a bouquet of flowers, then I can be the one who arranges the flowers, making them even more beautiful. Alternatively, I would like to be an observer, enjoying the colors and fragrances endlessly.
The strange looks projected by others, whether it is love or disdain, have never made my dance steps chaotic.
Perhaps INN AO is not beautiful enough or not good enough, but it fills my heart, only because of my affection, nothing else is desired.
Key Features
Multiple styles of focus images
Adaptive size recommended articles
Multiple size homepage modules
…
In-App Purchases
Quick category filtering
Menu article statistics
Comment likes
User avatar frames
2019 homepage
Sign-in reward area
WP user list replacer
Disable WP user elements
Trial roles
Theme Tutorials
Usage Agreement
The theme is subject to the site's

Terms of Use

, with the following additional terms.
The use of this theme must comply with Chinese laws and regulations. If you do not agree, please do not purchase.
Servers: Due to the theme's extensive functionality, server performance may vary.
Defects: The theme cannot cover all aspects, and features such as payments, question registration, and experience points that are under development cannot provide a release date.
Non-transferable: To reduce the author's burden, the theme is currently non-transferable. Please understand.
Non-dissemination: This is a niche theme, created by the author as a hobby, and is not promoted or disseminated.
TO-DO
Reduce some personalized options in the early stages of 10.0 official version.
In the 10.0 official version, the server only renders the main content.
Use theme-built menus and widgets (widgets) in the 10.0 official version.
Use digital database tables in the 10.0 official version.
Add more personalized options in the mid-term of the 10.0 official version.
Add a dark mode in the mid-term of the 10.0 official version.
Add a client app in the later stages of the 10.0 official version.